Inclusion at Bengeworth
Meet the Team
Mrs Rachel Seneque
Director of
Inclusion & Provision

Miss Elizabeth Lane
SENCo

Mrs Caroline Morgan
ELSA
Mrs Sarah Martin
ELSA
Mrs Emma Gallot
ELSA
Mrs Louise Townsin
ELSA

Mrs Jane Wadmore
Family Support
Professional
Miss Claire Floisand
Learning Support
Professional:
Speech & Language

Mrs Monika Slowinska
Learning Support
Professional:
EAL
Graduated Response
Bengeworth CE Academy values the contribution that every child can make and welcomes the diversity of culture, religion and intellectual style. We are committed to offering an inclusive curriculum to ensure the best possible progress for all of our pupils whatever their needs and abilities. All children with SEND are valued, respected and equal members of the school. Every effort is made to ensure that pupils identified as having SEND are fully integrated into mainstream classes and have full access to the National Curriculum.
At Bengeworth we strive to meet the needs of children with special educational needs and/or disabilities under the 4 main areas of the code of practice.
"As such, provision for pupils with SEND is a matter for the school as a whole.
All teachers and key workers are teachers of pupils with SEN"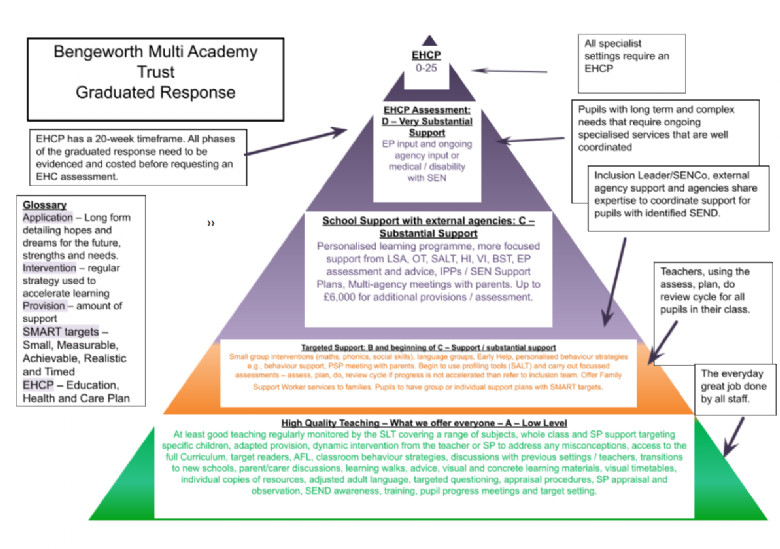 Cognition & Learning
Cognition and learning refers to the general learning of the person. Pupils with needs or difficulties in this area may learn at a slower pace to their peers, find it difficult to acquire skills, have low levels of attainment across subjects or struggle with problem solving.
Examples of cognition and learning needs/difficulties that are listed in the SEN code of practice include:
Specific learning difficulties (including dyslexia, dyspraxia and dyscalculia).
Moderate learning difficulties
Severe learning difficulties
Profound multiple learning difficulties
Communication & Interaction
Communication is fundamental to a child's development. The ability to communicate and interact with others is essential for children to learn, play and develop friendships. At Bengeworth we are committed to supporting children's development of communication and interaction skills.
Some children experience difficulties with communicating and interacting with others. They may experience difficulties with one or more of the following:
Understanding what others are saying
Using words to express themselves
Listening and paying attention
Interacting with other children (social skills)
Pronouncing words
Speaking fluently (stammering)
Children with Autism Spectrum Disorder are also supported by the communication and interaction team.
Physical & Sensory
The Occupational therapy service work with children who have difficulties which can prevent access to the learning environment. Children may have a physical disability or diagnosis such as Autism Spectrum Disorder, Developmental Coordination Disorder or Sensory Processing Dysfunction.
Occupational Therapy support the development of functional skills including fine motor skills, gross motor skills, visual perception and self-care.
Fine motor skills involve the coordination of small muscle movements within the hands and fingers. We need these skills to help us participate in classroom activities such as play, handwriting, use of scissors or tools and self-care.
Gross motor skills involve the movement and coordination of the arms, legs, and other large body parts which are needed for participation in PE, play and participation in classroom activities.
Visual perception is the ability to use visual information to recognise, recall, discriminate and make sense of what we see. For example, it is important for the guidance of movement when writing and catching a ball. Visual perception is learnt through touch, movement and vision.
Self-care refers to activities of daily living such as dressing ourselves, feeding, drinking and toileting. Some children need support to develop their independence with these skills.
Some children have difficulty with sensory processing. Sensory processing is our ability to receive, process and respond to sensory input from the environment around us. It involves the use of our senses including visual, auditory, smell, taste, touch, proprioception (body awareness) and vestibular (movement). Difficulty with sensory processing can impact attention and concentration, motor control and emotional/behavioural responses. OT will support with the assessment of these skills and provision of intervention or strategies
Social, Emotional & Mental Health
Social, Emotional and Mental Health (SEMH) is the area of health that includes the ability to express needs, wants and emotions in a positive way, manage anger and conflict and deal appropriately with frustrations. It involves practicing life skills, making responsible decisions, developing good character, following a plan to manage stress and being resilient during difficult times.
Examples of Social, Emotional and Mental Health needs, which are listed in the SEND Code of Practice, include:
Anxiety or depression
Self-harming and substance misuse
Eating disorders
Attachment disorder
Attention deficit disorder
Attention deficit hyperactive disorder